Strange Tales in Stone
Some of our most cherished gothic tales are surrounded by stone. Though the love we have for the likes of Dracula and Frankenstein's monster does not obscure the reality that they are fiction, many of these tales have a nugget of real-world inspiration at their core. Vlad the Impaler's connection to Dracula is fairly common knowledge, but did you know there is an actual Castle Frankenstein? That Robert Lewis Stevenson's Dr. Jekyll was based on a real person? That a disfigured man really lived beneath the Paris Opera House? Here are my pencil renderings of gothic horror's stony settings.
Click here for information on hosting a family friendly, 45 minute strange tales in stone art exhibit and/or presentation in your library.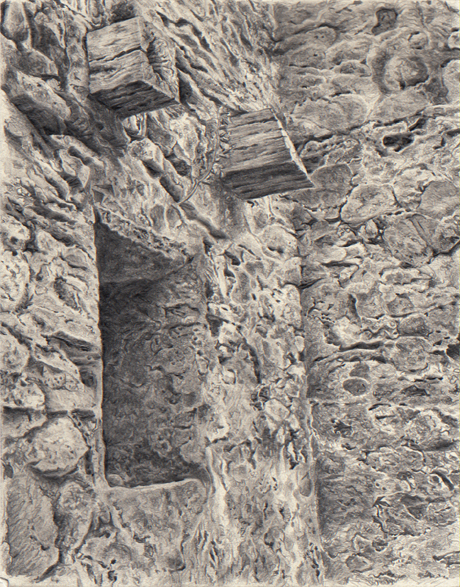 Poenari Citadel
Final Stronghold of Vlad Dracula
Arefu, Romania
An interior image from the ruined main fortress of Vlad Dracula (Tepes), the Impaler. Located south of Transylvania in Wallachian Romania, one legend is that Vlad's wife, afraid being taken hostage by besieging Turks, threw herself from the Citadel walls into the Arges River.
This image was acquired during a Dracula tour in 2008. In an episode of Ghost Hunters this chamber was tested for evidence of lingering spirits. None were found and just as well. The Impaler would not be a friendly ghost. 1,480 very long steps stand between the arriving visitor and the ruin.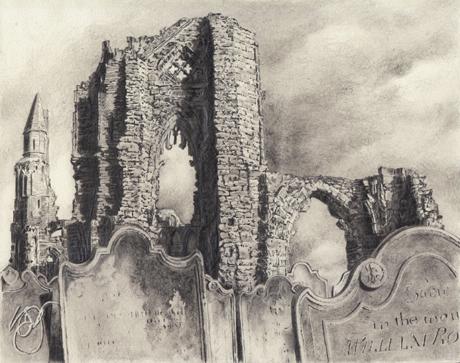 Whitby Abbey
Bram Stoker's inspiration for Dracula
Whitby, England
Whitby is home to the decomposing ruin and the coastline that served as models for Bram Stoker's brilliant vision of Dracula. The ruined abbey inspired the vampire's UK retreat, deteriorating Carfax Abbey. And the shoreline is where the ghost ship Demeter, transporting Dracula and a bloodless crew of the dead, ran aground. I also managed to find the
commemorative bench
across the harbour from the abbey marking the spot where Stoker was sitting when stricken with the idea.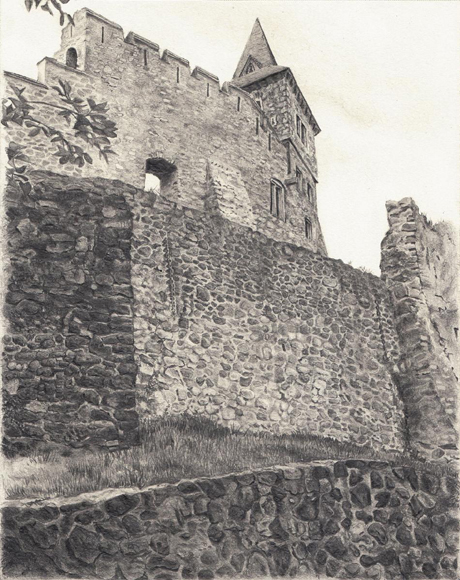 Burg Frankenstein
Ancestral castle of the family Frankenstein
Mühltal, Germany
One of the oldest names in German history, the first reported Frankenstein appeared in the 10th century. The first stones of the family fortress were set in the 12th century and grew over time, the tower added on centuries later. Among its many inhabitants over time was theologian, alchemist and physician Johann Conrad Dippel. Aspects of his career has lead to some speculation that Dippel may have served as Mary Shelley's inspiration for the fictional Victor Frankenstein. My final trek up the wooded mountain trail was to visit the castle in time to see the first rays of the Sun.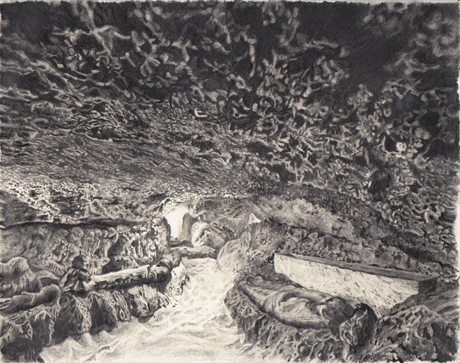 Catacomb at Minya
A recently discovered Egyptian City of the Dead
Minya, Egypt (this site was not personally explored)
From an unprecidented, recently discovered (2017) necropolis (city of the dead) in Minya province, Egypt, having unearthed 30 non-royal mummies as well as papyri in Demotic script. This was of course not an inspiration for Karloff's 1932 Egyptian fiend, but it really captures the environment of such a story. Due to travel conditions concerning Egypt this piece was developed from a photo acquired on-line and not personally explored on-site. And realistically it will probably be decades before this will be visited by anybody who is not an archeologist.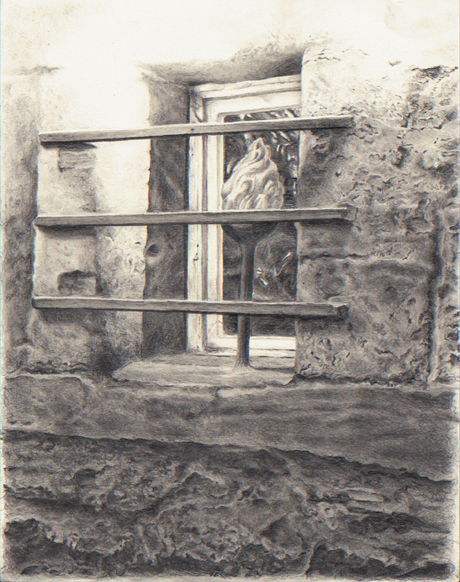 Exterior on Edinburgh's Royal Mile
Workshop of the real life Dr. Jekyll
Edinburgh, Scotland
From an old stone row house just east of Edinburgh Castle on the Royal Mile (Lawnmarket). Now a cafe, this is the former workshop of William Brodie, whose duplicitous lifestyle not only got him hanged on his own gallows but also inspired Robert Lewis Stevenson's The Strange Case of Dr. Jekyll and Mr. Hyde. Deacon, town father and respected craftsman by day, debauchee, womanizer and burglar by night his case was a strange one indeed.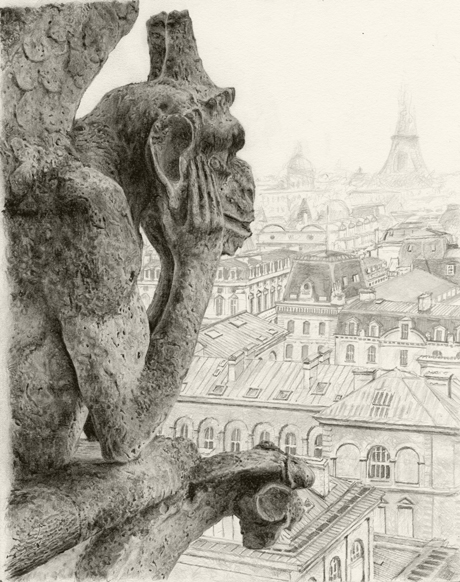 Gargoyle at the Cathederal de Notre Dame
Home of Hugo's heart broken hunchback
Paris, France
Is it possible that the deformed character Quasimodo - whose only companions were the stone gargoyles of the cathedral - was more than just a construct of Victor Hugo's imagination? The recently discovered memoirs of a 19th-century British sculptor working on the Notre Dame restoration in the 1820's suggest that may be the case. Sculptor Henry Sibsont described a hunched back stone mason named Trajan who was also working there around the time the that Hugo's book was written. Poularity of The Hunchback of Notre Dame is why there still is a Notre Dame, whose crumbling structure would otherwise have been too expensive to maintain. Could his gothic novel, which he began writing in 1828, have been inspired by the kind but reclusive hunchback Trajan? Quasimodo was the first of a long line of hunchbacks serving as minions for evil-doing Universal horror characters. Perhaps characters like Fritz, Nina, Daniel, Igor and all the hunchback toadies from non-Universal films owe their heritage to Trajan.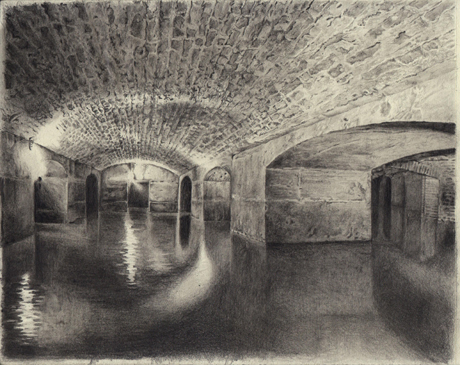 Beneath the Paris Opera House
Site of the Phantom's mayhem
Paris, France
I toured this most grand of Parisian attactions, but the cellars beneath the Phantom's old haunt are completely off-limits unless you're Paris fire and rescue training for a night dive. I didn't even make the full request when my otherwise polite tour guide said "NO". Having been built on swampy terrain the opera house's subterranean foundation consists of a flooded network of archways - less ornate than depicted in the movie but impressive none the less. Actually there are some surprising elements to the story that are not as fictional as you'd think - including the deadly falling chandelier, box 5, a facially disfigured subterranean dweller, even the soprano love interest. Anyway, I did my best but in the end the only possible solution to acquiring an image to work from was Atlas Obscura.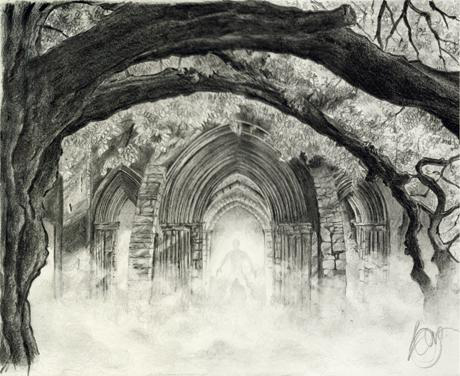 Margam Castle
Crumbled Chapel of the Welsh Talbots
Port Talbot, Wales
Following the opening credits of Lon Cheney's 1941 classic The Wolfman is a dictionary definition of lycanthropy referencing "Talbot Castle". I wondered if there could be such a thing, and in researching found the Wolfman's family name was likened to two castles - Malahide (an hour outside of Dublin and home to the Talbots for nearly 800 years) and Margam Castle in Port Talbot, Wales. Though there is no evidence I can find connecting Margam Castle with the movie it's location is spot on.
In Frankenstein Meets the Wolf Man the fictional town of Llanwelly is identified as Larry's home and described as in the area of Cardiff where Larry wakes up after being resurrencted. Margam, built for Christopher Talbot, is about 40 minutes from Cardiff and also resembles the mansion from Benicio Del Toro's 2010 remake. On the grounds at Margam and surrounded by moorish forest stands a deteriorated abbey ruin a century older than the great house.
Strange Tales in Stone