Ruins in Watercolour
La Roche Steps
Château Féodal de La Roche-en-Ardenne
La Roche-en-Ardenne, Belgium
From the perspective of the Château's deepest point which dates back to the 11th century. The worn, stony steps descend into a large, dark, windowless chamber. Though its prior use was not specified, this gloomy, windowless void is easy to imagine serving as a dungeon. The figure standing on the steps, preparing to descend into the deepest depths of Château Féodal de La Roche-en-Ardenne is my wife and fellow castle explorer Anne.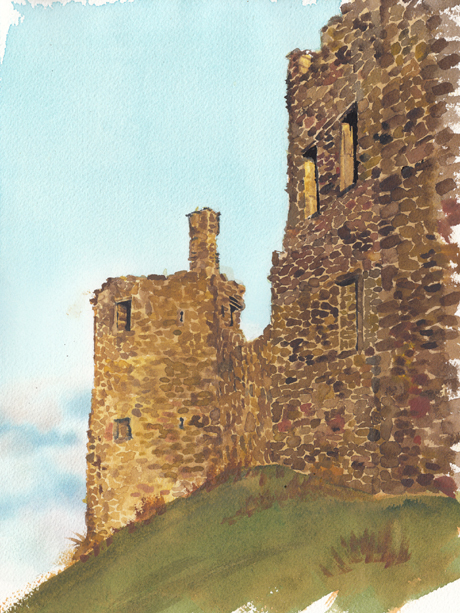 Dawn on Loch Awe
Castle Kilchurn
Dalmally, Scotland
The first of many castles built by the Campbells of Glenorchy. With its front facing to the east, the first rays of the Sun illuminate the ancient stone of 13th century Castle Kilchurn in deep golden and ochre hues, making it worth every moment of lost sleep. I found a few plastic bottles kicking around - as wrong as that seems - and put them to good use filling them with water from the loch. The waters of Loch Awe returned home with me and were used in the painting of this watercolor.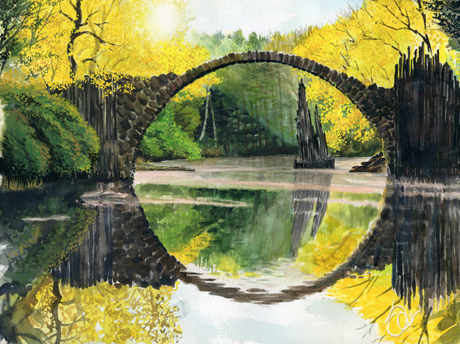 Hobbit Crossing
SOLD
Rakotzbrücke
Kromlau, Germany
This is the only item not painted from a visited site. This inspiring scene was generously provided by my dentist, Dr. Steven Schartz DDS. As I gazed upon the photo enlargement displayed on his wall I saw it as a watercolour and motivated my return to painting. Located in Germany's Kromlauer Park, the Rakotzbrücke is known as a "devil's bridge," so named for being dangerous enough to have been built by Satan.
Guild of Creative Arts 26th Annual Juried Show Bronze Metal Winner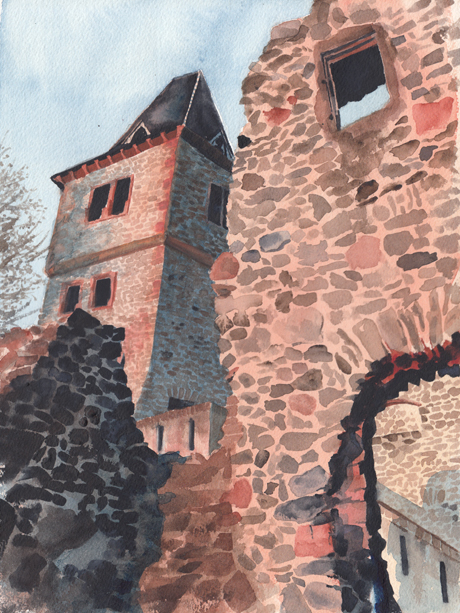 Two Faces of Frankenstein
Burg Frankenstein
Mühltal, Germany
Located on a hill top overlooking villages south of Darmstadt, this fortress was originally the stronghold of one of Germany's oldest family names - Frankenstein. I made a two mile, 1,000 foot incline, pre-dawn hike to beat the Sun my final morning in the area so as to observe the facade as only the dawn Sun could colorize it. The ruined walls date back to the 12th century, the more intact tower constructed centuries later. In addition to the site possibly serving as an inspiration for Mary Shelley's infamous novel, it served as residence in the 17th century for alchemist and physician Johann Conrad Dippel who, some have speculated, due to his work with the artificial extension of life may have been Shelley's model for Victor Frankenstein.
Sun of Frankenstein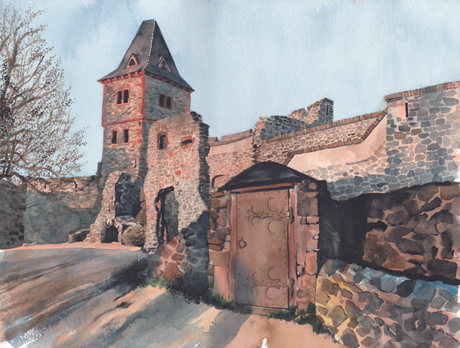 History depicts Dippel as a brilliant man having had a rich career in the sciences. Among his many accomplishments was the formulation of the pigment for one of my favorite colors, Prussian Blue. As an homage to Dippel, the cool tones in these paintings were applied with exclusive use of Prussian Blue.
Guild of Creative Arts 26th Annual Juried Show Bronze Metal Winner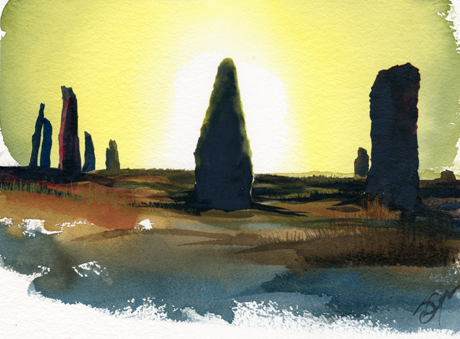 Brodgar Solstice
Ring of Brodgar
Stromness, Scotland
Visited on June 21, 2018 - the night of the summer solstice - this image is from one of several stone circles on the largest of the Orkney islands. Dating back 5,000 years, this circle of 27 monoliths was part of a massive prehistoric ritual complex. Given its generally mystical presence, the setting Sun on the summer solstice drew lots of people, many of whom were donning parkas despite it being the first day of summer! Being north of Scotland's north coast makes not only for a chilly night but also a later one. Sunset was at 10:29!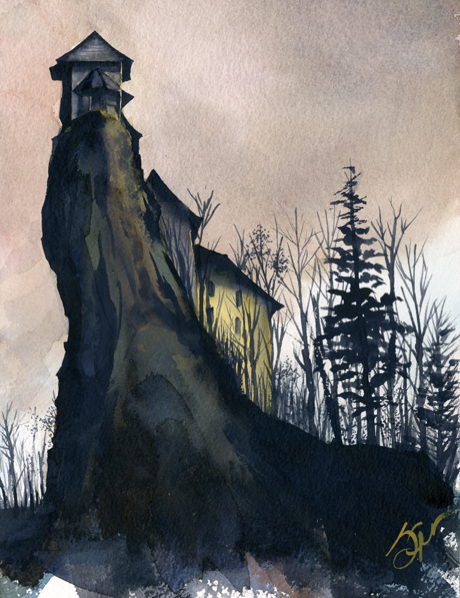 Orlok's Throne
Orava Castle
Oravský Podzámok, Slovakia
I like this painting, but its really just a place holder. Though it shows only a small piece of the full structure, I fell in love with this photo of the castle which had been used as the lair of the vampire in the 1929 film Nosferatu, the moment I saw it. But I need one of my own taking and a trip to Slovakia. I hope to replace this with one painted from personally obtained imagery in the spring of 2019.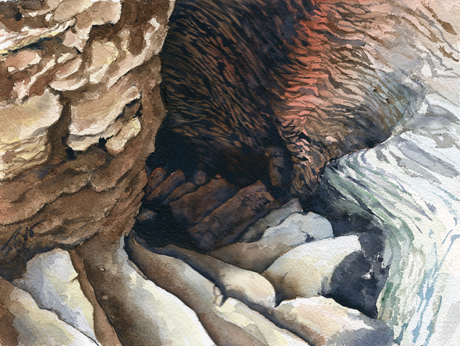 Château Féodal de La Roche-en-Ardenne
La Roche-en-Ardenne, Belgium
This spooky, stony stairwell within La Roche-en-Ardennes castle is freely accessible to visitors, leading you into a deep, dank chamber that seems to be exactly what one would expect of a primitive dungeon. My first impression was how such an uneven, tenuous descent would never be open to the public in the U.S. If you ever choose to visit ... watch your step!
Ruins in Watercolour